The primary goal of the Pennsylvania Veterans Museum is to educate the public about the experiences of U.S. Veterans and the sacrifices they made during times of war.  To this end, the Pennsylvania Veterans Museum develops and produces documentary films and lesson plans and makes them available to anyone interested in learning more about the American veteran experience.
EDUCATIONAL FILMS & LESSON PLANS
---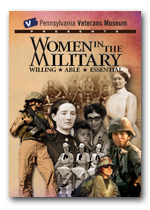 Women in the Military: Willing, Able, Essential
Since America's founding, women have been driven by patriotic zeal to serve their country while concurrently pursuing greater economic and social opportunities. From uncommon soldiers who disguised themselves to fight, and nurses that faced horrific wounds, to those who proudly wear the uniform in battle zones today, women have contributed to our military might in ways unknown to most Americans. This is their story. It is a tale of pride and love of country; a quest for status and recognition; a journey of dedication to the freedoms we all relish.
READ MORE
WORLD WAR II FILMS & LESSON PLANS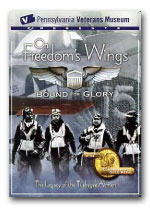 On Freedom's Wings: Bound For Glory
The Legacy of the Tuskegee Airmen
Hear the personal tales of the first all-African American flying unit, along with the numerous obstacles they overcame while breaking military color barriers, debunking deeply held beliefs that Blacks could never become skilled fighter pilots, and making history in the skies over war-torn Europe.
READ MORE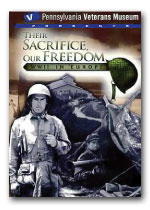 Their Sacrifice, Our Freedom: WWII in Europe
This film is an ambitious effort to not only track the important U.S. military campaigns in Europe, but to provide students with an historical backdrop to the events leading up to the war, going back to Germany's humiliating defeat in World War I, the world-wide Great Depression and Germany's efforts to rearm and expand its power and influence throughout Europe.
READ MORE
Their Sacrifice, Our Freedom: WWII in the Pacific
This documentary covers the war in the Pacific, from eyewitness accounts of the attack on Pearl Harbor, to the Japanese surrender ceremonies aboard the USS Missouri in Tokyo Bay.
READ MORE
VIETNAM WAR FILMS & LESSON PLANS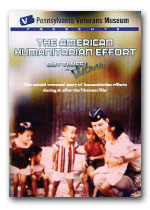 The American Humanitarian Effort: Out-takes from Vietnam
"Out-takes from Vietnam" traces the broad humanitarian efforts of military troops during and after the Vietnam War, including efforts that continue into the present day.
READ MORE
Request the DVD
The Pennsylvania Veterans Museum is pleased to offer our films free to all educators and JROTC programs. There is a small fee for shipping and handling which is $7.00 for one film; $10.00 for two films, $12.00 for three films, $14.00 for four films, and $17.00 for all five films. There is a $17 fee per film for non-educators, which includes shipping and handling.
---
To Order:
Please mail your check payable to
Pennsylvania Veterans Museum
Media Amory
12 East State Street
Media, PA 19063
Lesson Plans Included
---
These films are accompanied by lesson plans designed for the general population. They are available in either a two-day or five-day plan. Educators are encouraged to review and select the amount of time they would like to dedicate to this topic.
Click on the "READ MORE" button below each film to view and download lesson plans.
HIGH SCHOOL LESSON PLANS
two-day Lesson Plans
five-day Lesson Plans
MIDDLE SCHOOL LESSON PLANS
two-day Lesson Plans
five-day Lesson Plans